Where has the time gone? Two years has flown by and I am back! I felt inspired by the fantasy world of haute couture and felt compelled to express an array of words that delve deep into the fairy-tale realm.
Dior is one of those timeless brands that captures so much history. I feel fortunate to have been transported to a different dimension from the Victoria & Albert's wonderful Designer Of Dreams exhibition. They have explored so many silhouettes through years, from the New Look 1940's shape that captured wartime to present day hearts. Now shapes and structures differ but still explore a flattering form, from silk maxis to collared shirt midi dresses.
The couturier recently released their new Autumn Winter 2020-2021 collection, a 15-minute adventure into the earthy lands of trees, gorgeous green foliage, filtering fragments of light and flowing water. The clip is the collection by Maria Grazia Chiuri, directed by Matteo Garrone.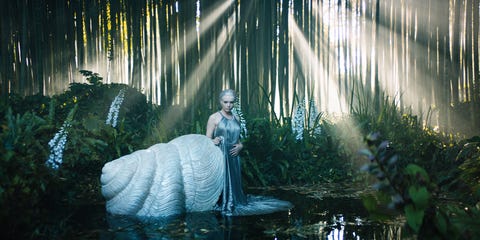 I am a lover of a narrative to evoke a feeling, this content is like reading an immersive chapter of your best book. The exclusive film begins where the crafty hands of the house's atelier use their passion and craftmanship to create mini versions of the ball gowns, similar to apprentice pieces. These 40cm tall mannequins may be small, but are packed with dedication and detail. Where fantasy meets nature and fashion meets art, the combination of vision leads to the dolls house trunk presenting fantastical ensembles to various ethereal characters. From aquatic mermaids, to a collection of Pre-Raphaelite influenced women, snail creature, stone like statue and partners immersed in tree bark. There is a sense of romance and mystery surrounding the clothing, the scenes divert to the workmanship creating their magic, this time to the human form. The transformation is parallel to clothes impact, the ability to change your world, each fitting to character and personality.
In 1933 Dior was the first to organise an exhibition to a surrealist audience, a source for imagining the collection. The dresses showcase drama and attention-to-detail. A standout piece has got to be the tulle cape like gown, with godets and pleating creating that raised and three-dimensional effect.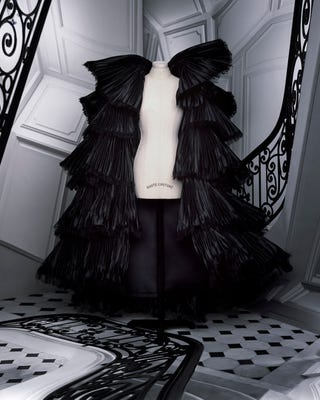 The mythological influence was the Dior dream that you couldn't quite believe was a reality.